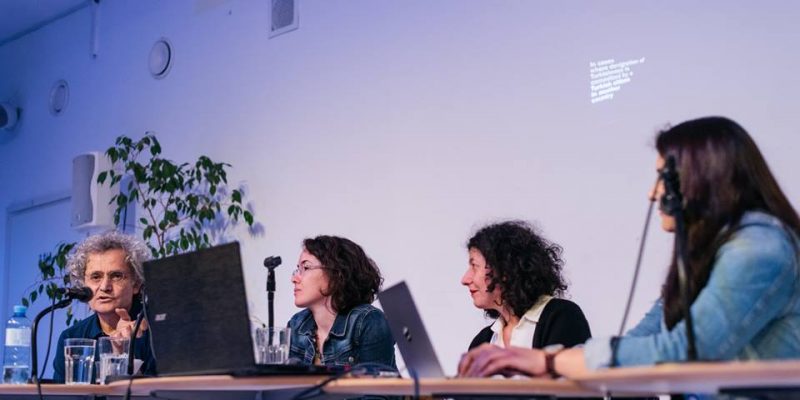 (Film critic and director Necati Sönmez and sociocultural anthropologist Banu Karaca discussed the issue of censorship in art in Turkey on April 9, 2017. The speeches were in German and Turkish. Below is an introductory text in German.)
Die "neuen" Macharten von Zensur in der Türkei, die die staatlichen oder privaten Institutionen offen oder insgeheim anwenden, reichen von der Autozensur der Künstler_innen selbst, bis hin zu direkten Eingriffen in die künstlerische Freiheit. Wie sehen diese "neuen" Zensurpraktiken aus und welche Strategien entwickeln Künstler_innen um sich von diesen zu befreien?
Zu Gast sind Banu Karaca, Sozial – und Kulturanthropologin welche an der Schnittstelle von politischer Anthropologie, Kunst und Ästhetik, Nationalismus und Kulturpolitik, Museen und Gedenkpraxen forscht und Necati Sönmez, Dokumentarfilm – Regisseur, Kurator und Direktor des Dokumentar­filmfestivals "Documentarist" und Filmkritiker.
Im Gespräch mit Ece Özdemir, Filmwissenschaftlerin.
Die Veranstaltung findet auf Türkisch mit Übersetzung auf Deutsch statt.
Eine Veranstaltung der Brunnenpassage in Kooperation mit Neuer Wiener Diwan.
Datum: 9 April 2017, 19:30 Uhr
Ort: Brunnengasse, Brunnenpassage 71, Wien