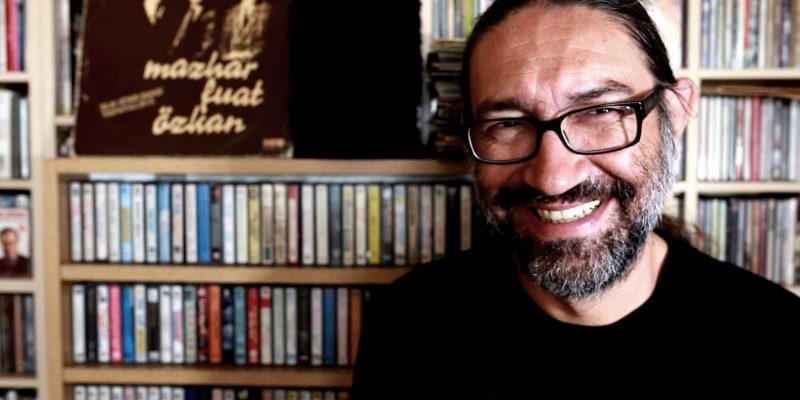 (Music researcher and critic Murat Meriç took us on a musical journey through the history of Turkey. The speech was in Turkish on November 25, 2018. Below is an introductory text in Turkish.)
Türkiye'nin yakın tarihini, ülkenin popüler kültür hafızasına kazınmış ve bazıları da unutulup gitmiş şarkılar eşliğinde hatırlamaya ve bu şarkıları yeniden dinlemeye ne dersiniz? Müzik yazarı Murat Meriç, Türkiye'nin tarihini, 27 Mayıs askeri darbesi ile çıkan 45'lik plaklar ve popüler Batı müziğinin ülkeye girişi; Türkiye İşçi Partisi'nin güçlenmesi sonucunda Anadolu Pop'un doğuşu; 12 Mart 1971 muhtırasıyla öldürülen ve idam edilen insanlar nedeniyle ağıtların yükselişi; 1980 darbesinin ardından, her şeyde olduğu gibi müzikte de yaşanan suskunluk ve sonrasında Ahmet Kaya, Grup Yorum gibi isimlerin ortaya çıkışı ve öğrenci hareketinin etkisiyle rock müziğin oluşumu etrafında ele alacak.
Murat Meriç, 1972'de doğdu. Kendini bildi bileli plak topluyor; okuyor, dinliyor, dinlediklerini yazıyor, sevdiklerini çalıyor. Mürekkep, Birikim, Milliyet Sanat, Virgül, Bant gibi dergilerde yazıları yayınlandı. Yeni Binyıl, Radikal ve BirGün'ün yazarlarındandı. Şu anda Açık Radyo'da, hafta içi her sabah Şarkılarla Memleket Tarihi adlı programı hazırlıyor ve sunuyor. 2002 – 2003 yıllarında hazırlayarak sunduğu Kırkbeşlik adlı televizyon programı TRT'de yayımlandı. Pop Dedik / Türkçe Sözlü Hafif Batı Müziği (İletişim Yayınları, 2006) ve 100 Şarkıda Memleket Tarihi (Ağaçkakan Yayınları, 2016) adlı iki kitabı var. Düzenli olarak Gazete Duvar, Vatan Kitap ve Kafa'da yazıyor.
Bu etkinlik, Brunnenpassage'nin işbirliğinde gerçekleştiriliyor.
Datum: 25 Kasım 2018, 19:00
Ort: Brunnenpassage, Brunnengasse 71, Wien