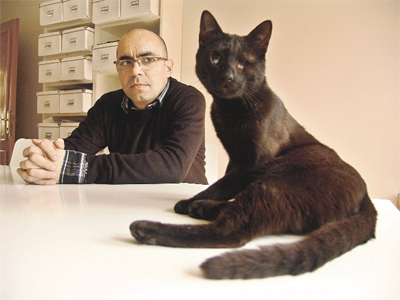 (Musicologist Alper Maral talked about folk music made by Turkish immigrant workers in Germany. The speech was in Turkish on March 7, 2016. Below is an introductory text in Turkish.)
Sözlü tarihin bu denli önemsendiği bir dönemde kaydedilmiş sesin değeri de ortadadır. Hele de kimi zaman bu sesli kaynaklardan öteye hiçbir şeyin kalmadığı, belleğin ancak o seslerle korunabildiği düşünüldüğünde… 50 küsur yıllık bir toplumsal hareket, Almanya'ya işçi göçü, arada bir hatırlansa da, geçirdiği çarpıcı dönüşümler yüzünden iyice silikleşen "gurbet" ve "gurbetçi" motifleri artık belki de sadece öznel bir tür olan "Alamancı Türküleri"nde; tamamen
unutulmuş ya da hiç duyulmamış, "nadirat"tan sayılan gurbetçi plaklarında, izlenebilecektir. Kimi zaman ezik, yenik, acılı; kimi zaman tersine oldukça neşeli, nüktedan; kendini bile alaya alan, kendine özgü dili, mizahı, deyişi, folkloru olan bu istisnaî tür, bir yandan da göç olgusunun buruk sesli tarihini yansıtır. Bu çalışma kaydedilmiş duysal materyalin bellek kurmak, ötesinde: korumak için, ne denli önemli olduğuna dair bir örnekleme denemesidir ve birçok farklı olgunun da aynı yaklaşım ve metotlarla kuşatılabileceğini önermektedir.
H. Alper Maral, müzikolog, kompozitör. YTÜ Sanat ve Tasarım Fakültesi'nde tam zamanlı, İ. Bilgi, GSÜ ve Marmara Ü. İletişim Fakülteleri'nde yarı zamanlı öğretim üyesidir. Çağdaş müzik-politika ilişkisine odaklı Yeni Dünya Düzeninin Olumsuzluklarıyla Sarsılan Toplumda Müzik ve Techniques of 20th Century Turkish "Contemporary" Music. A Survey (Mark Lindley ile birlikte) adlı kitapları ve iletişim odaklı çok sayıda makalesi vardır. Geçtiğimiz dönem Uluslararası Çağdaş Müzik Birliği Yönetim Kurulu Üyesi, Kültür Araştırmaları Derneği Genel Sekreteri, Yeni Müzik
Kooperatifi ve İstanbul Barok Derneği Başkan Yardımcısı, Müzik ve Sanat Kütüphaneleri Platformu kurucu üyesi olarak görev yapmış/yapmaktadır.
Etkinliğin dili Türkçedir; giriş ücretsizdir.
Tarih: 7 Mart 2016, 19:30
Yer: Nazım Hikmet Kültür Cafe, Wien