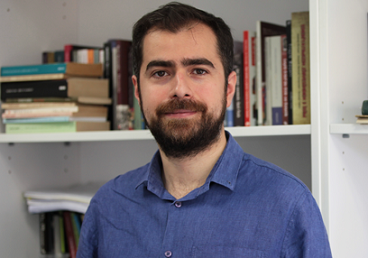 (Dr. Mehmet Fatih Uslu, an expert on Armenian literature, talked about Armenian writers and literature in the second half of the 19th century in Ottoman Empire. The talk was  in Turkish on April 8, 2016. Below is an introductory text in Turkish.)
Biz kimiz? Bu soruyu nasıl yanıtlarsak yanıtlayalım kocaman bir boşluk kalır geriye. Yanıtlamaktaki beceriksizliğimizden değil, yanıtın bazı öğelerini hiç bilmediğimizden. Bir "unutturulmuş biz" var, ya da ta en baştan yok sayılmış ve eksikliğini bilmeden yaşadığımız. Şimdi, denklemin bir türlü oturmadığını iyice anladığımız bu günlerde, bu ta en baştan yapılan yok saymaların algımızı daralttığını, çözümü bize sorunun daracık bir altkümesinde arattığını fark ediyoruz. Mesele sadece hakkaniyetlilik değil, mesele bu şekilde yolumuza indirgenmiş bir versiyonumuzla devam etmeye çalışıyor olmamız aynı zamanda. Sonuç, hep eksik kalacak bir bünyenin kendini hep arayacak ama bulamayacak olması.
Peki, nasıl bileceğiz, bulacağız onları? Çok şükür ki, bunu bizim için yapanlar var, Mehmet Fatih Uslu, Fatih Altuğ ile birlikte hazırladığı "Tanzimat ve Edebiyat" adlı kitabıyla bize o boşluğu gösteriyor. Göstermesiyle birlikte de o boşluk, bir boşluk olmaktan çıkıp tasavvur edilebilir, zamanla da kurgulanabilir bir eksiklik haline geliyor. O eksikliği doldurmak hiç kolay değil, ancak bir kez içimize düştü mü rahat durmayacağımız da çok belli.
Bu açıdan, sadece adı bile bir provokasyon "Tanzimat ve Edebiyat"ın. Öyle ya Tanzimat Edebiyatı'nı biz Namık Kemal, Şinasi ve Ziya Paşa'dan mürekkep bir edebiyat hareketi, modern edebiyatımızın başlangıcı, sıfır noktası olarak biliyoruz. Yıllarca bu bilginin verdiği güvenle de edebiyatımıza baktık. Bilgi yanlış değildi, ama yeterince doğru değildi. Çünkü bizim Yahudi, Ermeni, Rum, Kürt milletlerimizin edebi faaliyetleri de oldu aynı dönemde. Ve birçok diğer konuda olduğu gibi edebiyatta da göz ardı etmişiz bu organik birlikteliği. "Tanzimat ve Edebiyat", bir yola çıkış kitabı.
Hem kitabı hem de Osmanlı'daki Gayrimüslim edebiyatını konuşmak üzere Mehmet Fatih Uslu'yu konuk ediyoruz.
Etkinliğin dili Türkçedir; katılım ücretsizdir.
Tarih: 8 Nisan 2016, 19:00
Yer: Mekan68, Neustiftgasse 68/1; 1070 Wien