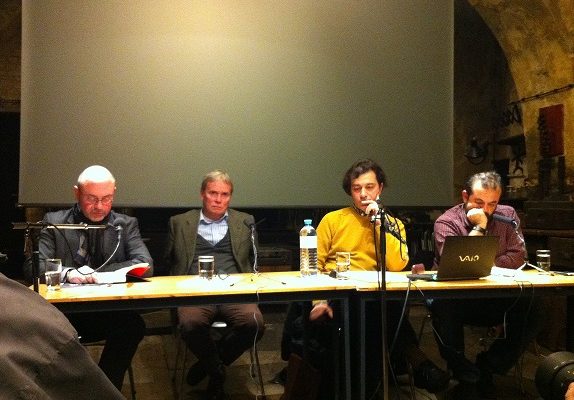 (Austrian writer Peter Waterhouse and Turkish writer Murat Uyurkulak participated in our writer exchange-program. Waterhouse stayed in Istanbul for a month, getting to know the city and writing about it. Similarly, Uyurkulak was in Vienna for a month. Below is an introductory text in German.)
Murat Uyurkulak und Peter Waterhouse waren die Autoren dieses zweiten Austauschs zwischen Istanbul und Wien. Sie tauchten jeweils für einen Monat in die andere Lebensart ein, knüpften Kontakte für weitere Begegnungen und setzten in diesem Monat zusammen mit dem jeweiligen Austauschpartner im literarischen Leben der Gaststadt ein Zeichen.
Es gibt Wirklichkeiten einer Stadt, die den Einheimischen nicht ersichtlich sind. Die blinden Flecken, die durch den historischen Blick, durch Gewohnheit und Vertrautheit entstehen. Diese blinden Flecken verhindern auch oft, das tatsächliche Potential einer Stadt zu erkennen. Ein Fremder mag dies oft deutlicher wahrzunehmen. Vor allem wenn dieser Fremde schreibt, könnte die Stadt sich durch den fremden Schreiber erfahren. Umgekehrt erfährt der Schreiber sich vielleicht ebenso über die fremde Stadt. Man geht ja weit von sich weg, um das Andere zu erreichen und dabei kommt man am Ende wieder bei sich an. Aber auch der fremde Besucher sieht nicht nur seine Wirklichkeit, sondern auch seine Möglichkeiten.
Welche Rolle also fiele in diesem Zusammenhang der Literatur zu? Die fremde Stadt ist nicht nur ein Gegenstand für die Literatur, sie ist auch die Möglichkeit einer anderen Wirklichkeit. Die Wirklichkeitsversionen, die einer Stadt und die des eigenen Ich, sind nicht nur wirklich, sondern auch fiktiv.