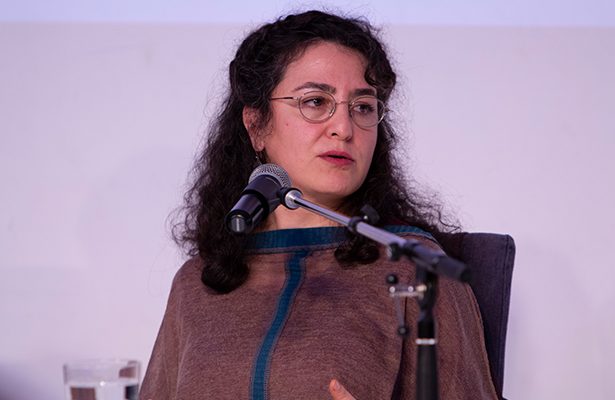 (Author Sema Kaygusuz was in Vienna as NWD's guest. She talked about her new book, Gaflet and the sexism in modern Turkish literature. Gaflet is an important and critical book which she prepared together with academic Deniz Gündoğan Ibrişim. In this book, they reveal sexism, homophobia, misogyny and speciesism in modern Turkish literature. The speech was in Turkish on November 25, 2019. Below is an introductory text in Turkish.)
Edebiyatçı Sema Kaygusuz ve akademisyen Deniz Gündoğan İbrişim'in birlikte hazırladıkları Gaflet (2019), modern Türkçe edebiyatın "cinsiyetçi sinir uçlarını" açık ediyor. On dört yazarın, Türkçe edebiyatın önemli eserlerini, feminist eleştiri perspektifiyle değerlendirdikleri bu çalışma, edebi metinlerdeki cinsiyetçiliği, homofobiyi, mizojiniyi, türcülüğü ve dahası insanmerkezciliği görünür kılıyor. Üstelik bunların, her cinsiyetten ve eğilimden yazarın metinlerinde karşımıza çıkabileceği gerçeğini de es geçmeden.
Kaygusuz, Gaflet'i şöyle tanımlıyor: "En kestirmeden söylersek, bizim kitabımız feminist ilkelerin edebiyat eleştirisi yöntemiyle yeniden hatırlatıldığı bir eleştiri kitabı. İnsan, hayvan ve yerkabuğundaki bütün varlıklara düzgüsel sınırlar çizen cinsiyetçi söylemin, edebiyat yoluyla nasıl üretildiğini tartışan, zaman zaman söz konusu sınırları aşmak iddiasıyla ortaya çıkan bazı metinlerin aslında sınırı daha da kuvvetlendirdiğini fark eden, çoktan zamanı gelmiş müdahaleci bir hamle…"
Sema Kaygusuz, bu söyleşisinde Gaflet'ten yola çıkarak edebiyattaki cinsiyetçiliği tartışmanın yanı sıra feminist edebiyat ve eleştirinin bize sunacağı yeni ufukları anlatmak için konuğumuz olacak.
Sema Kaygusuz: Önce radyo oyunu, koreografi ve tiyatro ile ilgilenen yazar, edebiyat alanına öyküleriyle girdi. İlk öykü dosyaları Yaşar Nabi Nayır Gençlik Ödülü'ne (1995) ve Gençlik Kitabevi Ödülü'ne (1996) değer bulundu. Öykü kitabı "Sandık Lekesi" ile Cevdet Kudret Edebiyat Ödülü'nü (2000) aldı. İlk romanı "Yere Düşen Dualar" 2006 yılında yayımlandı. Eleştirmenlerin takdirini alan ve çok sevilen roman, Fransa, İsveç, Norveç ve Almanya'da da yayınlandı. 2009 tarihli ikinci romanı "Yüzünde Bir Yer" Avusturya KulturKontakt kurumu tarafından onurlandırıldı. Yazar, "Barbarın Kahkahası" romanı ile 2016 Yunus Nadi Roman Ödülü'nü kazandı. Aynı yıl 19. yüzyılın ünlü dilbilimci, çevirmen ve şairi Friedrich Rückert adına Almanya'da verilen Coburg-Rückert Ödülü'ne layık görüldü. Kaygusuz'un diğer çalışmaları ise şöyledir: "Karaduygun" (2012), "Sultan ve Şair" (2013) ve "Aramızdaki Ağaç" (2019).
Etkinliğin dili Türkçe'dir ve giriş ücretsizdir. Bu etkinlik, Brunnenpassage'nin işbirliği ile düzenlenmektedir.
Tarih: 25 Kasım 2019, 19:30
Yer: Brunnenpassage, Brunnengasse 71, Wien