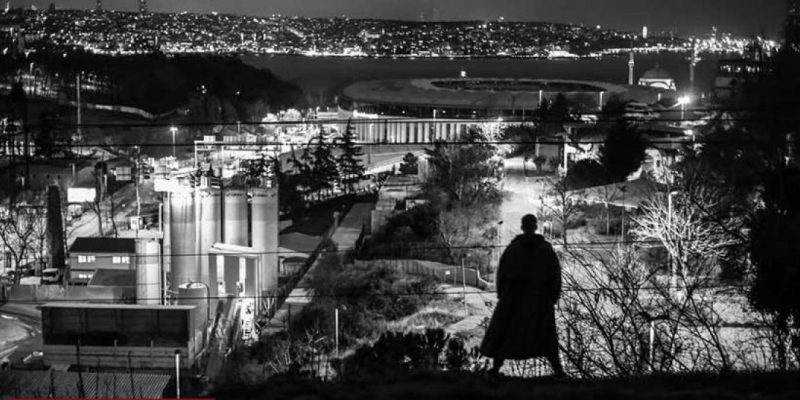 (Photographer Şevket Şahintaş was in Vienna as NWD-guest. Sahintas takes photos of intransigent and needy people of Istanbul, like homeless-people, scrap collectors, druggies, sex workers, beggars and refugees. He is also a taxi driver and has always his camera with especially at night. He gave a talk on street-photography and presented his new photographs to the audience. The speech was in Turkish and German on 23 October, 2019. Below is an introductory text in German.)
Der Taxifahrer Şevket Şahintaş ist nach eigener Angabe Istanbuls erster Nachtfotograf. Auf seinen Bildern sieht man Menschen, die in der türkischen Megametropole zu überleben versuchen: Flüchtlinge, Obdachlose, Bettler, Prostituierte, Verdünnungsmittelschnüffler, Papiersammler. Mit ihnen allen machte er Bekanntschaft, während er 2004 seinen Nachtdienst als Taxifahrer antrat. Weil er darüber nachdachte, wie er ihnen helfen könne, kaufte er sich auf Anregung eines der Kunden einen Fotoapparat. Auf diese Weise wurde er zum direkten Zeugen des auf den Straßen stattfindenden Überlebenskampfs dieser Menschen, denen er Sichtbarkeit und eine Stimme verleihen möchte.Diese Zeugenschaft Şahintaş´ begann mit einem ganz einfachen Apparat, der in seiner Jeanstasche Platz fand, und dauert mittlerweile Jahre an. Heute ist Şahintaş nicht nur in der Türkei, sondern auch im Ausland ein angesehener Fotograf, dessen Schaffen von zahlreichen Kunstinteressierten aufmerksam verfolgt wird. Bei der Anlage werden Sie ein paar weitere Fotos finden.
Als Neuer Wiener Diwan würden wir uns glücklich schätzen, wenn Sie uns auf dieser Abendveranstaltung durch Ihre Teilnahme beehrten. Die Soirée wird in Anwesenheit Şevket Şahıntaş´ selber durchgeführt. Er wird über seine besondere Art der Zeugenschaft sprechen und seine Fotografien zeigen.
Şevket Şahintaş kam 1966 in Istanbul zur Welt. Seit 1988 arbeitet er als Taxifahrer. Seine Fotografien, die er über mehr als sechs Jahre hin aufnahm und unter dem Titel "Das andere Gesicht der Nacht" zusammenfasste, wurden sowohl in der Türkei als auch im Ausland mit großem Interesse aufgenommen. Diese Fotos sind auch in Universitätsarchiven dokumentiert worden. Şahintaş vertrat die Türkei bei dem Event "Türkische Fotografie der Gegenwart" in Sankt Petersburg. Etliche Zeitungen und Zeitschriften der Türkei haben Reportagen und Fotos von ihm veröffentlicht. Auch CNN International und SPIEGEL ONLINE publizierten Reportagen von ihm. Zoom Europa Arte und die Deutsche Welle strahlten Kurzdokus über ihn aus. Gegenwärtig arbeitet Şahintaş, der nach wie vor als Taxifahrer tätig ist, an einer Dokumentation mit dem Titel "Die Kinder der Straße".
Die Abendveranstaltung wird in deutscher und türkischer Sprache stattfinden. Eintritt frei.
Datum: 23. Oktober 2019, 19:00
Ort: Festsaal, Amtshaus 9. Bezirk, Währinger Str. 43, 1090 Wien