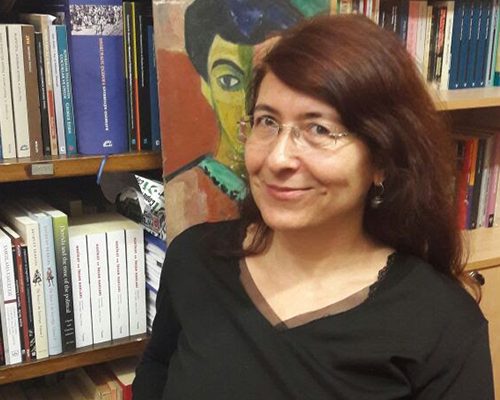 (Alev Özkazanç, professor of political science and gender studies, talked about increased male violence against women, LGBTIQ people, children and animals in Turkey. She also touched on the relationship between this gender based violence and the AKP government. The speech was in Turkish on November 10, 2018. Below is an introductory text in Turkish.)
Yeni Türkiye denen rejim, neden ve nasıl bir eril güç gösterisi niteliği taşımaktadır? Feminist siyaset bilimci Alev Özkazanç, bu soru etrafında şekillendireceği konuşmasında, Türkiye'deki siyasi iktidarın abartılı erkeksiliğinin kadınlara, gençlere, LGBT bireylere, çocuklara ve hatta hayvanlara yönelik artan bir şiddet olarak nasıl tezahür ettiğini anlatacak.
Cinsiyete dayalı bu şiddetin, Yeni Türkiye ile başlamış olmasa da son dönemde aldığı ağır ve özel biçimlerin söz konusu yeni rejimle olan bağına değinerek, Türkiye'de erkek şiddeti sorununu ele alacak.
Prof. Dr. Alev Özkazanç, şu anda Oxford Üniversitesi, St Antony's College'da misafir akademisyen olarak çalışmalarını sürdürüyor. Alev Özkazanç ODTÜ, University of Essex ve Ankara Üniversitesi'nde siyaset bilimi eğitimi gördü. 1992-2016 yılları arasında Ankara Üniversitesi Siyasal Bilgiler Fakültesi'nde çalıştı ve 2016 yılında emekli oldu. Siyaset Bilimi bölümü derslerinin yanısıra Toplumsal Cinsiyet ve Kadın Çalışmaları bölümünde de dersler verdi. KASAUM üyesi olarak çalıştı ve Cinsel Tacize Karşı Destek Birimi'nin kuruluşunda yer aldı. "Mürekkep" ve "Toplum ve Bilim" dergilerinin yayın kurulunda bulundu. Halen "KAOS Q+" ve "Vira Verita" dergilerinin danışman kurulundadır. Hepsi Dipnot yayınevi tarafından basılmış olan kitapları şunlardır: "Yeni Sağ ve Sonrası" (2007), "Neo-liberal Tezahürler" (2011), "Cinsellik, Şiddet ve Hukuk" (2013), "Feminizm ve Queer Kuram" (2015, 2018).
Etkinliğin dili Türkçedir; katılım ücretsizdir.
Tarih: 10 Kasım 2018, 20:00
Yer: Amerlinghaus, Stiftgasse 8, 1070 wien