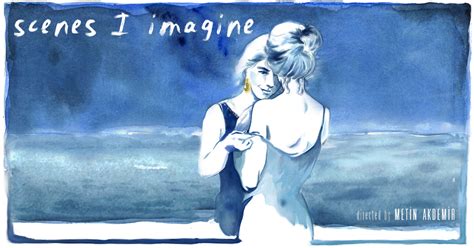 2020/45`/Turkey/ Turkish with English subtitles
Scenes I Imagine is about the relationships between female characters of films that were known as "women films" in Turkish cinema. The movieexamines why the "queer implications and possibilities" that these so-called "women films" entail are portrayed as friendship, companionship or sisterhood or why they are represented / cannot be represented as queer relations.
Scenes I Imagine pursues this inquiry by focusing on three films from that era. Rather than aiming to reach forgone or absolute conclusions, it goes one step beyond implying and towards the imagination. Director Metin Akdemir approaches these three films from a queer perspective and adds new scenes to them. Combining the features of video essay and documentary cinema, Scenes I Imagine opens new doors of meaning to the films in question and pursues queer desire.
Metin Akdemir, Metin Akdemir is a queer activist, director and producer. He directed the internationally awarded short films Ben Geldim Gidiyorum (2011) and Küpeli (2013). Since 2012, he has worked in organization committees for LGBTQ + themed contemporary art exhibitions. He continues to organize the exhibition series Sınırsız with queer-feminist artists and continues to work within the dramaqueer Art Collective. He completed the documentary "Scenes I Imagine" that takes on censorship of queer desire in Turkish cinema.
In order to watch this movie, please send an email to: neuerwienerdiwan@gmx.at. With the link, which will be sent to you, you can watch the movie free-of-charge on 15, 16, 17 and 18 December. For the trailer:https://vimeo.com/471102071